We celebrate our 10 year wedding anniversary this year, so when our 6-year-old son told us he thought we should get married again we decided, why not!? I had always said I wanted to do a vow renewal when we hit the 10 year mark.. so we started planning an intimate, rustic picnic vow renewal ceremony with our closest friends and family.
As soon as we committed to the Renewal, I started searching for the perfect dress. It had to be short, have a sweetheart neckline and be unique. I completely fell in love with Sarah Seven's line of dresses and lucked out that the most charming Bridal Boutique in Seattle, The Dress Theory, carried her line. I was even able to purchase the sample dress and keep within my dress budget! It couldn't have been more perfect for me – not a single alteration needed!
I designed the Rustic Floral Invitation Suite to set the tone for the event with a peach and blush color palette.
 On our big day, guests were welcomed to the park with signs and photos. Friends helped make the gold scalloped banners & the paper fans fir guests to keep cool with.
 We got big blankets at second-hand stores for all our guests to sit on and borrowed vintage wooden crates and wooden doors as table tops to hold vintage mason jar centerpieces. For our Grandparents we reserved vintage wooden folding chairs so they would be more comfortable during the ceremony.
 My friend Allyson from Peace and Love Flowers let me go flower shopping with her & I got to help make my daughter's bouquet! The flowers were so beautiful and smelled delightful!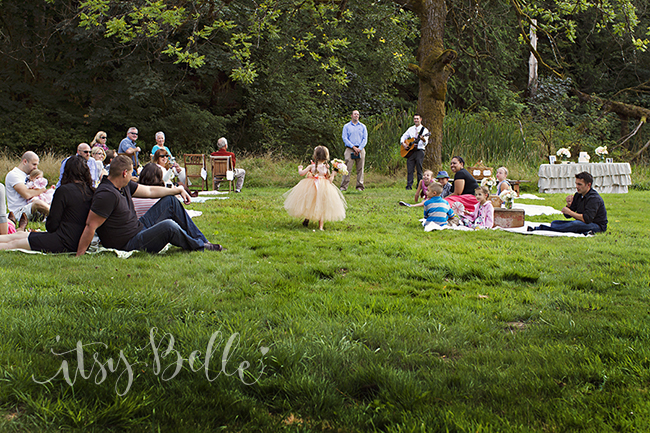 We wanted to keep everything low-key and meaningful. During the ceremony my husband strummed his guitar as we walked down the picnic blanket lined isle. My husbands best friend, who was Best Man at our wedding ten years ago, officiated the ceremony and read vows we had written.
 We wanted it to be about our family and not just us so w my little guy to walked me down the aisle and his little sister got to be Flower Girl/Maid of Honor. I think this was my favorite part of the entire event! They were so sweet and we were definitely proud parents!
When we were trying to decide on a venue, we chose a park that we often went to during summers as high school sweethearts. We chose the picnic area with a beautiful tree that we had picnic'd under as a family when our daughter was just born, the perfect place to redo our "I do's". One of the perks to the park was it was a free! It helped us keep within our modest budget.

After the ceremony we all sat out for a picnic reception. Printables from our Paperie were used for straw flags, menus & signs. I hand drew signs to look like mini chalk board menus for each meal choice. We had three box lunch choices for guests – brides menu of choice, grooms menu of choice and of course the kids choice (Peanut Butter & Jelly)! We had prepared all the lunches the day before and chose items that wouldn't need refrigeration the day of – including a delicious Vinegar and Mustard Potato Salad.
After lunch, it was time for cake! Our cake table was adorned with our wedding photos and photos of us from our first date – a High School Tolo Dance! The gorgeous Vintage Blue Mason Jars from our Rental Section served as Vases for the beautiful centerpieces.
At our first wedding we didn't give out favors and I always regretted it. So this time I was determined to thank our guests with a little something sweet.
Our favors were mini Sweetie Pies! We went blackberry picking locally and baked blackberry & peach pies together to thank our guests. Aren't the little "Sweetie Pie" boxes from Koyal Wholesale the cutest!?
We tried to really make our celebration reflect who we are and incorporated our hobbies. My husband's guitar and truck made an appearance as well as my vintage camera.
Nearly our entire event was DIY, from the cake I baked  & decorated, the picnic lunches we made the day before, to the mini pies we picked the berries for ourselves! It was just that much more special knowing everyone had helped to make our day so meaningful and beautiful. The best part was that the kids had a great time running throw the fields with their friends and enjoying the summer twilight surrounded by people who love us. Thank you to everyone who helped make our day so special.
Venue – Flaming Geyser State Park, Auburn, WA
Photography by Hollie Renner Photography
Dress Purchased at The Dress Theory
Hair by Salon La Belle – Enumclaw, WA
Groom's Attire from Macy's
Flower Girl Dress by Atutudes
Stationary and Printables by Itsy Belle
Cake by Itsy Belle
Sugar Flowers by Astonishing Cakes
Flowers by Peace and Love Flowers, LLC.
Ruffled Burlap Table Cloth by Candy Crush Events
Fabric Truck Bunting by JP Alexander Events
Mini "Sweetie Pie" Pie Favor Boxes from Koyal Wholesale